Titan Real Estate Group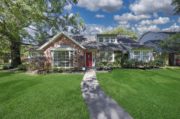 Titan Real Estate Group is a locally owned and operated real estate consulting firm. We work with buyers, sellers, and investors in the Houston area.
Expanded Service Description
Diane Trykowski is the founder of Titan Real Estate Group, and is a Professional Real Estate Consultant. Titan Real Estate Group services Houston and the surrounding areas. They also provide each client with superior service during the transition phase into home ownership. Diane is an energetic and driven Realtor who is eager to help you with your home purchase, sale or investment. As a real estate professional, she will go above and beyond caring for each detail in a prompt, efficient manner. Diane has extreme attention to detail, and is a mastermind at understanding home values and negotiations. She has always enjoyed interacting with clients from the initial consult through closing. Diane has a strength in understanding her client's needs and helping them find the perfect home for their family. Diane has had success in a variety of fields. She resigned from teaching after 11 years and began her own staging and organizing company. Her continual want of helping people is what inspired her to get her real estate license. She is a Katy resident and loves to spend her free time with her family.