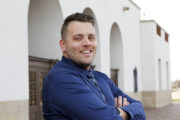 Specialties: Buyer's Agent, Listing Agent, Relocation, Foreclosure
Team One Group Real Estate has been helping buyers who can not buy and sellers who can not sell for over 20 years! We have developed multiple programs to help sellers sell faster and for more money. Team One Group Real Estate helps find financing for buyers who have been told NO.

Family is very important to us, therefore we view our clients as family. Our family lives by a set of values we call "The Family Rugg"

Family

Respect

Unity

Gratitude

Golden Rule (Do unto others as you would have them do unto you)

"We invite you to join our Family today and Look forward to giving You the Key to the American Dream!"
Expanded Service Description
Garrett grew up in Nampa Idaho and has lived here for most of his life. He married his high school sweetheart in 2006 and currently lives in Nampa with his wife, three daughters and two dogs. He got his Real Estate license in March 2012. He started out with Team One Group Real Estate and has now moved himself up into an ownership position as well as a team leader. Garrett started his career out helping buyers find amazing deals with short sales and foreclosures. He then learned how to help his clients short sale their home and help them save their credit in the process. Since then he has helped clients relocate from out of state, helped clients sell and buy a new home at the same time making the transition painless, helped clients with multifamily transactions, new construction, development, land sales, commercial transactions, first time home buyers, last time home buyers, first time home sellers, last time home sellers and so much more. Garrett serves Nampa, Caldwell, Meridian, Kuna, Star, Middleton, Boise, Eagle and surrounding areas. Garrett has spent a lot of time learning the art of negotiation and used his skills to help his clients get their offers accepted in multiple offer situations as well as help his clients save thousands on the purchase or sale of their home. Garrett started coaching with Michael Hellickson at Club Wealth http://clubwealth.com/michael-hellickson/my-story/ to help learn to serve better and stay current on Real Estate trends. Garrett was invited to coach with Club Wealth and now coaches other real estate agents across the country. http://clubwealth.com/about/meet-our-coaches/garrett-pancheri/ Garrett enjoys spending time with his family as well as playing and watching sports in his free time. His dream is to help as many people as possible while still providing the best customer service as possible. He also would like to grow his business so that his family can join him if they want when they get old enough. Garrett is grateful for all of his support and he loves volunteering his time helping the local youth. He spends a lot of time supporting his local schools sports programs.
Garrett's client reviews
https://www.zillow.com/profile/GarrettPancheri/#reviews
Garrett's past sales
https://drive.google.com/open?id=1-bdYAMYTcAeVZXdi0kLfYn25KYU&usp=sharing
Garrett's website
http://garrettpancheri.com/