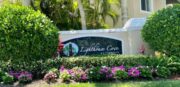 Shellie Chiet ~ Broker
Broker Owner at Shellie Chiet Real Estate LLC
18081 SE Country Club Drive, Apt 164, Tequesta, FL 33469
I'm happy to share that I'm starting as Real Estate Broker at Shellie Chiet Real Estate LLC!
My Mission is to GIVE back to the local community by donating a portion of profits from each closing. I will be supporting YWCA Palm Beach County, Chasin A Dream Foundation (AKA Locals Helping Locals™, Wahine Warriors & Fab & Fun Friends. Its what we call a GIVE GET!
I am also interested in empowering & inspiring local agents that want to give back & get involved in our community.
I have over 23 years in the biz & specialize in Commercial, Industrial, & Residential Leases & Sales.
Feel free to contact me at (561)262-5895.