Featured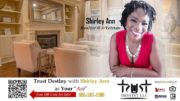 Military Relocation Specialist, First Time Home Buyer, Probate Real Estate Professional and Luxury Home Specialist
Expanded Service Description
I LOVE GOD FIRST AND FOREMOST! It is because of Him that I am. As a result of this and the ability to serve our country over 26 years, I'm more than prepared and equipped to serve my real estate clients.
Who is Shirley Ann? I am;
Successful
Honest
Intriguing
Realist
Lovable
Energetic
Youthful
Admirable
Never Quit
Noble
These characteristics tell who I am and what my name means. In my opinion it's critically important for my client to know who they are trusting their real estate needs with at all times. I am Shirley Ann.
As a leader with 26 years of military service, I possess educational studies for assisting others in issues
, thereby providing realistic solutions. I am very competent in connecting and assisting others to discover the true destiny within with quantifiable and measurable results. I am an excellent communicator. It's important for me to know how to help real people with real issues obtain reliable solutions. It's my desire to help people and this is what drives me to fulfill my purpose and calling in real estate. I am a true team builder and I possess the skills of helping my clients achieve their goals and destiny.