Peggy Ragan- United Real Estate Kansas City
Featured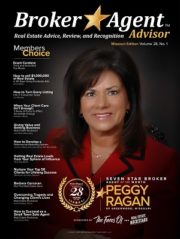 I serve the Kansas City area with four designations: ABR, CRS, CSP, and GRI. I work with a variety of clients all around the metro, buying and selling homes. With over 27 years experience, I know the Kansas City metro area extremely well.
Expanded Service Description
"Making Dreams a Reality" is my motto; with over 25 years of experience, I can make your dreams possible. I have an extensive knowledge of not only residential sales, but also construction, investment, and commercial transactions as well. I built my business around serving the needs of my clients and work 24/7 to ensure that happens. Your property is always top priority, and I never miss an opportunity to promote it. You can count on me as your 'go-to' person for all the aspects of the real estate process, from coordinating needed repairs to accompanying you to closing.
I started out in development and building and joined my first real estate company in 1990. I have acquired multiple professional designations, ABR (Accredited Buyer Representative), CSP (Certified New Home Sales Professional), GRI (Graduate of REALTOR® Institute), and CRS (Certified Residential Sales Specialist). What I am most proud of is my business built off of faithful clients who come back and refer me.