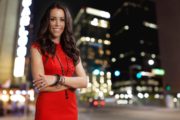 Representing buyers and sellers in the entire Phoenix area. Call today!
Expanded Service Description
Amy Parker, Owner of Parker Realty, is a multi-million dollar producer, full time Realtor and Designated Broker. She has been selling Phoenix area real estate for over a decade, and is among the top 1% of Agents in Maricopa County. Amy, aka, "Broker Amy", has been deemed "The Rock Star of Real Estate" due to going above and beyond for her clients, her passion for real estate, and high level of customer service.
With a long list of awards and accomplishments, from Salesperson of the Year, VIP of the Year, a Community Achievement Award, and being an yearly Bronze or Silver award winner since 2007 for high sales volume at the West Maricopa Board of Realtors, Broker Amy is a well known Realtor in the Phoenix area. As an expert negotiator, she completed training to become a certified negotiation expert (CNE) and a certified short sale negotiator (CSSN). Amy is also known for throwing appreciation parties for her clients, as well as her charity work and prideful sense of community. Throughout the years, Amy has hosted car washes, fitness events, bake sales, even charity rock concerts! All proceeds have benefited such charities as the American Cancer Society, Alzheimer's Association, Arizona Multiple Sclerosis Society, and Nova Rehabilitation Center. Amy recently joined forces with a non-profit charity by the name of "Help Them All", and helped a previously homeless family into their very first home to call their own.
Amy is a valuable resource when it comes to Phoenix area real estate and has had her company's commercial air on local television. Her commercial was nominated for a Clio Award, and won a prestigious Telly Award in the real estate category. Throughout the years, she has been featured in "Top Agent" magazine, and the "Your Life A to Z" Television Show. She has been interviewed on local TV and radio programs, as well as many real estate articles, blogs, and websites.