MVP Realty and Associates LLC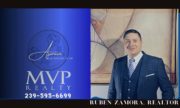 I work with numerous individuals that are looking to purchase Real Estate, from First Time homebuyers, to Investors looking in multifamily opportunities or Commercial development. I specialize in SWFL from Naples Fl to Cape Coral and cities in between.
Expanded Service Description
After the events of 9/11, I decided to join the United States Air Force. At the age of 18 I enlisted and entered my career as a Aerospace Propulsion Apprentice, Airplane Engine Mechanic. I was first stationed at Whiteman AFB Missouri working on the B-2 Bomber.
I began my journey in Real Estate when I first picked up Rich Dad Poor Dad by Robert Kiyosaki. This book changed my life by introducing me to a world that was new to me and the simplicity of the idea made it into a passion I wanted to pursue. I continued reading all The Rich Dad Saga including Cashflow Quadrant, Increase Your Financial IQ, Start your Own Corporation By Garrett Sutton amongst others. After immersing myself in this amazing library I enrolled at Rich Dad University, a private course that taught Real Estate Investing with a 1 on 1 Coach. It was here that I purchased my first property in Warrensburg Missouri.
After I purchased my first property I realized that the principles that they were teaching were in fact true, and I wanted more. I went on to Commercial Property and purchased 20 Boat Storage Units and a Flower Shop. I continued my journey and gained the Franchise rights to AAFES Petals and Blooms and opened a Flower shop inside Whiteman AFB, Finally I ended my Flower Shop Pursuit when I purchased the oldest flower shop in town, Marshall Flowers in Marshall Missouri.
In 2013 I transferred to the 125th FW in Jacksonville FL and made my residence in Naples FL . I purchased two additional Residences in Florida and while living here I purchased two more Duplexes in Missouri.
I decided to become a Real Estate Professional with the idea of teaching and helping people to purchase Real Estate and become self sufficient through Passive Income. It is with my Real Estate Experience through the years that I now offer to earn your Business as your Real Estate Agent.