LZ Realty & Management LLC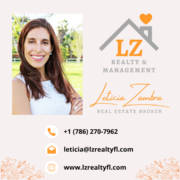 My name is Leticia Zambra, I was born in Uruguay (South America), and I moved to U.S. in 2007.
For over a decade, I have been working as a full-time Real Estate Broker and Property Manager in many different areas in the RE industry, representing clients all over Miami-Dade, Broward, and Palm Beach counties.
Expanded Service Description
Since 2018, I have been an active member of the "Davie and Cooper-City Chamber of Commerce".
In 2021, I have been designated as Director of the "Uruguayan American Chamber of Commerce". Those two organizations drive me to be highly focused working and serving our community, residents, and small business, continuing to leverage my know-how and experience to exceed my client's expectations with attention to detail and thorough communication.
I got a REO Certification, which in addition with my CPE (Client Protection Expert), PSA (Pricing Strategy Advisor), Property Management, and uncountable RE trainings, have given me the necessary tools to develop and carry out my profession successfully throughout all these years. But I continue adding achievements and reaching new goals, because the housing market is constantly changing. Being informed and updated is the best way that I found to differentiate myself from other agents!
One of my greatest skills is the ability to negotiate the perfect deal for clients based on my extensive real estate background. For me, it is never just another transaction but an opportunity to form quality relationships with my clients, and I am proud of being a one-stop-shop for buyers, sellers, and investors. My ability to listen and understand to my client's needs, has allowed me to build and maintain solid relationships with them.
"When you treat people the way you want to be treated, you'll always have a relationship built on respect, courtesy, and trust – even in the business world."
Seven Star Broker Agent Advisor
2021 and 2020 Top Producer Award