Living Room Realty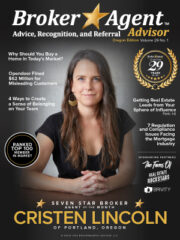 Broker specializing on Portland and the surrounding areas. Born and raised here!
Expanded Service Description
Cristen has been a Portland real estate broker for nearly 30 years, giving her an exceptional understanding of the industry and the local market. She was born here, grew up here, and raised her own family here. She knows the parks, the farmers' markets, the schools, the hidden corners, and the joyful quirks of Portland's bustling neighborhoods.
Cristen's deep-rooted knowledge of the area means she understands the audience for a house. She understands what a potential buyer is looking for, the process they go through when choosing a home, and what details matter most. This makes her the ideal guide to help you prepare your home for market. She is an expert in maximizing the value of your home while minimizing unnecessary improvements.
With the confident and tranquil mastery that comes with experience, Cristen is often three steps ahead—holding future possibilities, ideas, and strategies that will navigate her clients toward achieving their long-term goals. Known for her calm demeanor in the face of any size challenge, Cristen is respected in her industry for being an exceptional negotiator and strong advocate for her clients, even in the toughest of circumstances.
With intention and spirit, Cristen has built her real estate team around her core values of honesty, hard work, follow-through, and serious play.
A top broker in the city, Cristen has been named a Portland Monthly Five Star Agent year after year. She has received the Seven Star Certificate of Excellence and the Top 500 in the nation award from Broker★Agent™ Advisor. Cristen is a key member of Living Room Realty's leadership team where she mentors, teaches, and coaches Portland's top real estate brokers.
When not working, Cristen is likely immersed in outdoor play with her husband, her kids, or a pup by her side. Whether she's hiking, gardening, snowboarding, or walking the sands of the Oregon Coast, nature is the place Cristen goes for inspiration and restorative balance.
ADDITIONAL AWARDS & AFFILIATIONS
• Portland Monthly Five Star Agent
• 10 Best of 2015: Client Satisfaction – American Institute of Real Estate Professionals
• Portland Metropolitan Association of Realtors- Master's Circle Member
• PMAR Public Relations Committee Member
• PTA board member Atkinson School
• Impact NW Volunteer and Community Liaison
• Rose Chapter National Charity League
AT YOUR SERVICE
Meet my Team
• Owner/Partner: Jenelle Isaacson
• Principal Broker: Diane Moreau
• Licensed Broker: Stacey Pongracz-Bartha
• Senior Transaction Coordinator: Iris Ireland
• Agent Services and Marketing Department: Sarah McBee, Alyssa Hacmac, Kate Austin, Elinor Hickey