Home Sales Palm Beach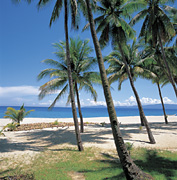 Barbi Leonard, The Professional with the Personal Touch!
The most important thing when choosing a real estate professional is to find someone you can trust. I have a history of success and integrity in real estate that you can depend on. I am an experienced negotiator with expert knowledge of the local markets. You can count on me to always work with your interests in mind, and to represent you and your wishes to the best of my ability.

Expertise -
Whether you are buying, selling or want to lease a home or condo, I know I am the best choice to represent you.
Good communication is the cornerstone of any successful relationship. You can count on me to provide you with the information you need on a schedule, and in a manner that suits you best. I will always keep you informed!
I am extremely service-oriented and will be available to address any questions or concerns you may have. With my background in marketing, I have the tools and knowledge to make sure your home is put out in front of all the others; being seen by all potential buyers!
If necessary, I am also available to help you stage your home, suggesting ideas that would unveil its charm and potential, getting it the attention it deserves.
I take my relationship with my clients personally. I am professional yet personable, experienced yet enthusiastic. I have the skills and resources to make this a positive experience, and to make it happen as smoothly as possible.


Interests -
My family and friends are my biggest interests! I love to entertain! The sound of kids, dogs, friends and family makes me so happy! I also enjoy traveling with my husband, going boating, scuba diving, and sometimes just hanging out with my girlfriends & neighbors. I find that spontaneity can be the most fun! I've just recently started playing golf, and wish there were more hours in the day... Life is good, and I love living it!

Contacting Barbi -
I would love to have the opportunity to work with anyone who needs an experienced and professional real estate agent. Call me on my cell at 816-590-7885, or my office in Jupiter, Florida at 561-768-9075, and let me answer any questions you may have... I have the background, skills and resources for all your real estate wants and needs. I am the Professional with a Personal Touch!




Expanded Service Description
Organizations -
American Business Women's Association Northern Palm Beach Chapter
Play for P.I.N.K. Foundation
Florida Association of Realtors
Realtors Association of the Palm Beaches
National Association of Realtors
Luxury Collection Club of Palm Beach Gardens, Florida
Honors & Awards -
Selling Agent for the Kansas City Homes & Garden Magazine, award-winning home in 2006.
Being among just 7% of the real estate agents in the Kansas City area to be chosen, by their clients, as a "FIVE STAR: Best in Client Satisfaction Real Estate Agent" in the year 2008.
2020 & 2021 'Five Star' Certificate of Excellence with Broker Agent Advisor.