Exit Central Realty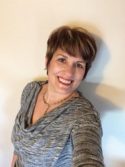 Company Name:
Exit Central Realty
Expanded Overview and Background:
My name is Katina Morris; I am a member of Exit Central Realty in Milford, Delaware. I specialize in assisting home buyers and sellers throughout Kent and Sussex Counties with Bank Owned Properties (REO), Property Renovations, First Time Home Buyers, New Construction and Relocation (including the areas of Smyrna, Dover, Camden, Bridgeville, Rehoboth, Milford, Milton, Seaford, Laurel, and the surrounding beach areas).
A little about Katina Morris:
With a background and experience in real estate investments, sales, hospitality, customer service and home construction with my husband, I am able to utilize all my skills, experiences and knowledge in helping my clients. I'm originally from Canada where I met my husband Adam while attending university, in the Province of New Brunswick. We married and then decided to move to NJ where we resided there about 10 years. After the birth of our two children, we decided to move to Delaware to be closer to my husband's family and I fell in love with Delaware and the local communities where we do our best to always give back!
Testimonials for Katina Morris
"We had the pleasant experience of having Mrs. Katina Morris greatly assist us in our recent purchase of an oceanfront condominium.
During all our dealings with Mrs. Morris, we found her what we call the three "P's" – Polite, Prepared, and Professional.
Dr. and Mrs. Savini
"I wanted to thank you, "Katina Morris" for all your help and expertise in the Real Estate market in southern Delaware. We were so grateful that you were very well versed with the area which helped to save us a lot of time. Again, thank you, Katina, for all your help and friendship. We now have new friends in our new retirement location."
Alvaro and Mary
Exit Central Realty is a people-oriented organization which provides individual opportunity and personal satisfaction. We have instant access to the regional Multiple Listings Services, public records, lead-generation systems and many other tools and services that we use to better service you! Exit Realty Corp. International opened for business on September 3, 1996, and in record time, Exit has become the fastest growing full-service real estate franchisor in North America. The exclusive Exit Formula is the reason for our growth
I am committed to partnering with homeowners to accurately assess their property, prepare it for the market, and attract the maximum number of qualified buyers. I am equally committed to opening doors for prospective home buyers as they search for their next home. I believe that all my clients are not just a transaction but a part of my family. I work hard for my clients by helping them transition to buying or selling their home with dedications, integrity, and professionalism.