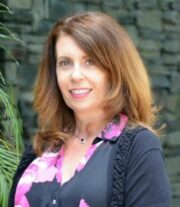 I love working with both buyers and sellers. I am open to working with people relocating to the Phoenix Metro and surrounding areas, as well as first time home buyers. I have been in the business for over 30 years in both Real Estate and Residential Property Management. I have been awarded International Sterling Society Award, two years in a row and have over 80+ customer 5 star reviews. I am passionate about what I do, and will take care of your clients with the upmost integrity and care. I am also bilingual. I am fluent in speaking, reading and writing in Italian.
Expanded Service Description
Greetings, my name is Enza Duda and I am a seasoned real estate professional thriving at Coldwell Banker Realty with over three decades of industry expertise. Commencing my real estate journey in 1988 with Coldwell Banker, I specialized in leasing multi-family properties before managing multi-million-dollar residential properties at Bre Properties for 25 years. 
Transitioning to a Realtor role in 2013, I seamlessly integrated my property management background into my real estate career. My time with Coldwell Banker, has equipped me with profound internet marketing experience and a robust online presence, offering unparalleled advantages to both buyers and sellers.
Clients can trust that I approach every transaction with efficiency and a genuine passion for my work. My goal is not only to meet but to exceed the expectations of the clients I represent, fostering lasting relationships built on trust and successful real estate experiences.
What sets me apart is not just my extensive industry experience, but also my commitment to professionalism and ethical practices. Clients can expect me to be organized, dedicated, honest, and timely throughout the real estate process.
Originally from Florence, Italy, my family moved to the United States when I was 10, teaching me resilience and adaptability. I am fluent in both speaking and writing fluently in Italian. My personal journey, rooted in adapting to new environments, has fueled my passion for hard work and perseverance. As someone deeply connected to my Italian heritage, I aim to instill the values of diligence and determination in my children. For me, nothing worthwhile comes easy, and achieving a goal is all the more satisfying when earned through hard work. I'm ready to guide you through the intricate world of real estate with confidence and expertise. I look forward to the opportunity to assist you in achieving your real estate goals and making your property dreams a reality.