Berkshire Hathaway HomeServices Nevada Properties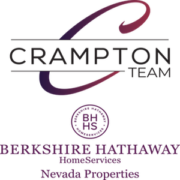 Residential Real Estate Sales & Listings, Luxury, Seniors, Assisted Living, Short Sales/Foreclosures
Expanded Service Description
Delinda & The Crampton Team are committed to providing the finest full-service real estate experience for all Clients. We employ well-trained and ethical real estate professionals who place our Clients' concerns above all else. Our team approach philosophy ensures your needs are important to each and every member of The Crampton Team. We are dedicated to becoming a trusted advisor to our Clients as well as developing and nurturing long term relationships so we are each Client's real estate agents for life.
As proud members of the Berkshire Hathaway HomeServices network, we provide the absolute finest service, dedication, and expertise possible to our clients.
Whether you want to buy, sell, or rent - we will help make your home ownership dreams come true.
We Love Happy Clients!!
Delinda is recognized as one of the Top 25 Women in Real Estate for the past three years, Delinda also ranks as one of the top 50 performing realtors in the Las Vegas Valley. From the beginning, she has strived for excellence, receiving several prestigious honors over the years – Best New Agent, President's Circle, Chairman's Circle, Chairman's Circle Gold, Chairman's Circle Diamond, and Las Vegas Life 5 Star Client Satisfaction award. While the honors are nice, Delinda's goal is always to meet the needs of her clients with quality and excellent care.