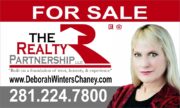 ACCREDITED BUYERS REPRESENTATIVE, (ABR) with nationwide resources and the ability to NEGOTIATE the best deal for YOU. CERTIFIED RESIDENTIAL SPECIALIST, (CRS) with the most current and up-to-date information you can count on. FREE CMA for your current property.
Please visit: www.DeborahWintersChaney.com for more information!
Expanded Service Description
I have worked with countless Buyers and Sellers since 2000, when I was first licensed. I have been a Five Star Professional for the last 8 years. I never forget: "I work for YOU!"