The Markangel Team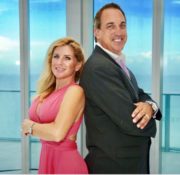 We sell Luxury Real Estate On S Ocean Drive and Collins Avenue On the Ocean, we also specialize in servicing fist time home buyers through our referral network in the professional service sector.
Expanded Service Description
Mark…
I began my career in Real Estate working in Fort Myers for Coldwell Banker in 1998. I witnessed the growth of Lee, Collier, Charlotte and Sarasota counties and took advantage of an opportunity to open my own business. As a successful entrepreneur, I eventually employed over 130 staff throughout Sarasota and Lee counties opening additional businesses over the years.
.
Originally from Hampshire England, just a few minutes from Windsor Castle, I relocated to Florida in 1997. During my many travels, I lived in places around the world including Malta, Spain, Bahamas and the Caribbean just to name a few. The unique real estate and culture of each locale served as an impetus to my career as a real estate professional.
I was educated at Basingstoke College of Technology in Hampshire and after successfully completing my course study I received certification of City of Guilds London.
My International education and Business experience has helped me secure vast knowledge of how the international real estate community around the world works.
My team and I are customer service orientated, so when working with banks and financial institutions communication is easy and streamlined. Everyone in the transaction is always aware of what is happening with the property.
 I am member of the Miami Association of REALTORS®.
 I am a member of GBR (Global Business Council of Realtor's)
 I am a member of TRC (Transnational Referral Certification)
 I am an REO Specialist. (Real-estate Owned/Bank owned)
 I am a member of NAR. (national association of realtors)
 I have achieved an ABR Designation. (Accredited Buyers representative)
 I have completed my CAM training course.(Community Association Management).
 I am a member of RPAC (Realtors Political Action Committee)
 I am a member of AMC (Aventura Marketing Council)
 I am a member of HMC (Hallandale Marketing Council)
I am also a Broker Associate.