Re/Max TerraSol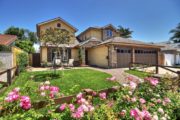 Erin offers a winning combination of business pedigree, real estate savvy, and local knowledge that truly sets her apart.
Expanded Service Description
Top Producer, Erin Martin, has sold over $80 million in her real estate career. An experienced REO agent and a short sale specialist, Erin is a knowledgeable advocate who draws strength from her prior career in accounting and finance. Before settling in a real estate career, Erin had purchased two homes. Their realtor saw a potential powerhouse in Erin and she soon had a new career. Success came fast when Erin's sales topped $3.7 million in her first three transactions.
In the 15 years that she's been a Realtor, Erin has successfully guided her clients through challenging market changes. She is money savvy—always aware of the financial ramifications of any transaction—and is well equipped to promote the tax advantages of home ownership. Buyers seek her out for her valuable financial advice and sellers maximize their opportunities by utilizing the services of her skilled marketing team. This strategy has earned her team a place in the Top Producers at Star Real Estate, First Team Real Estate and Realty ONE Group.
Erin is a HB Mom of two boys – Kai (11) and Drew (6). She grew up in HB and now her kids are enjoying the carefree beach childhood. They love spending time at the beach and helping in the community.