RE/MAX Properties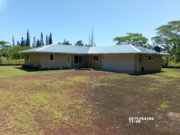 Help Buyers and Sellers purchase or sell residential properties in Hawaii. Work with relocation people moving to the Island and to thoes whom are looking to move back to the mainland.
Expanded Service Description
I have been a realtor since 2001, I am a Certified Residential Specialist (CRS), Acredited Buyer Represnitive (ABR), Certified New Home Specilist (CNHS), and Certified Distressed Property Expert Designation (CDPE). I was a Home builder for 16 years prior to starting my Real Estate Business. I am dedicated to helping my clients fulfill their real estate needs.