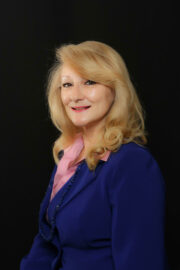 Residential Real Estate, First time Buyers, Land Sales, Ranch Sales, Home Sales, Hiring Broker.
Expanded Service Description
I began my Real Estate Career in 1986, joining my Parents in their C21 Firm; I was Accounting, Processing, Front desk, Trainer, Relocation etc. for 6 years. I beame a Licensed Realtor in 1992. In 2006, I graduated from Leadership OAR Class, Gained my Brokers License and lost my Dad that year to a major stroke. 4 years later I lost my Mom to Breast Cancer. At that time I decided to start my own Firm and opened a RE/MAX office. I enjoyed that Platform for 5 years and Made an Amazing change to a Local Firm in Oklahoma that is always in the top 5 Companies in Oklahoma. As a METRO BROKERS of OK - Branch Broker I have the ability to help my Agents and All my Clients and Customers that I have had the pleaseure of serving for years.
I have served as Norman Board of Realtors President 2011, Realtor of the Year 2013, State Governmental Affairs Chair, Leadership OAR State Chair, National Housing Committee member and several Local committies every year. I enjoy my 3 daughters and 8 Grandchildren, my church family. My husband and I Love to Get away to travel and go fishing.