Lifetime Realty and Investments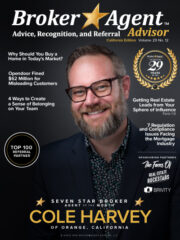 Cole Harvey is a seasoned Real Estate Broker with a proven track record in residential home sales, investment properties, and luxury estates, as well as distressed properties and Short Sales. Representing both Buyers and Sellers for over a decade, Cole has built a loyal portfolio of clients that continue use his services and refer their friends and family because his dedication and passion for making their real estate dreams a reality. Cole's personal, honest, and hands on approach has earned him customers for life by making the cornerstone of his business putting his client's needs and interests first and foremost.

As the Broker of Record at Lifetime Realty and Investments, Cole oversees a service area covering all of Southern California. With wide experience serving buyers and sellers of all kinds, ranging from young families shopping for their first home to representing and consulting sellers in the marketing and sale of unique luxury properties, Cole has the working knowledge to handle any type of transaction. Cole's extensive background in REO/Bank Sale and Asset Management, Short Sale Negotiation, and Pre-Foreclosure transactions have allowed him the opportunity to serve Distressed Home Owners and address the unique hurdles that arise in the short payoff of a home.

Before working in Real Estate, Cole spent over fifteen years in Sales, Marketing, and Project Management for the Architectural, Engineering, Construction, and Building industries, as well as the Advertising Industry. Cole has served as a member of the Home Builders Council, Building Industry Association, American Institute of Architects, and BDAOC.