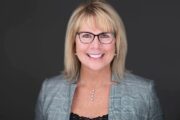 Terese Brittingham, Operating Principle of Keller Williams Realty Group since 2002 and Realtor since 1993, is well respected and renowned by her peers for her real estate knowledge and honest reputation. She believes the connection she develops with her clients is imperative to understanding their needs and supporting them in their homeownership goals. Known for her unmatched professionalism and amiability, she has turned her office into one of the top real estate businesses in the United States, recognized by Real Trends Magazine as one of America's Top 1,000 Agents and Companies and by Swanepoel Trends Report for Top 1,000 Team. She currently oversees 270+ realtors and sales agents and runs a real estate team with her partner, Tom McCouch, which listed and sold more than 160 homes in 2019 alone, equaling more than $50 million in real estate transactions. Specializing in luxury homes, relocation, new construction, land, special financing, and first time home buyers, Terese knows that education is essential in real estate as the market, trends, and real estate laws constantly change.

Community and civic responsibility are also a priority for Terese. In 2005, Afleet Alex, an American thoroughbred race horse, owned by Terese and her partners, won two of America's classic races, the Preakness Stakes and the Belmont Stakes. This enabled Terese and her partners to generously donate to charity and sparked her ongoing devotion to Alex's Lemonade Stand Foundation. As a result, one of her largest annual fundraising events is the Keller Williams Charity Fundraiser for Alex's Lemonade Stand Foundation which has raised over $265,000 for pediatric cancer. In addition, she annually volunteers her expertise as a sponsor of Red Day, a Keller Williams event offering a day of community service by all staff and agents and serves on numerous committees and boards with local organizations including past Chair of the TriCounty Chamber and current Pope John Paul II Board Member and Committee Chair.

Her devotion to her clients and the real estate industry has not gone unnoticed. Her honors and awards include being voted one of America's Most Referred Realtors, the Mustang Scholars Woman of the Year, and membership in the Multi-million Dollar Club—more than 920 transactions closed and $200 million worth of real estate closed between 1998 to 2019—and she has been consistently ranked among the top one percent of realtors nationwide for the past 18 years.