eXp Realty Shelby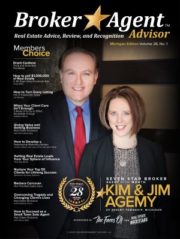 Expanded Overview and Background
"Don't get so busy making a living that you forget to make a life." This quote from Dolly Parton definitely describes the life balance that Kim Agemy is so serious about. She knows that success is only truly realized when the crossroads of work and family are met with great intent.
Kim grew up in Clarksville, Indiana, in a very close knit family. She was active in dance, track, and softball. Her parents set an inspiring example of a hard working, all American family. They laid the foundation for strong character, selflessness and service to others, values she seeks to uphold each day. After high school, she went on to earn a Business degree from Indiana University.
In 1995, she met her husband, Jim, and they later moved to Michigan. It was there that she began a career in new construction sales with one the nation's largest home builders. In record time, she managed to sell out an entire phase of a development on her own. The company tasked her with another, and she exclusively met that challenge, too. That's when she knew she had found her place. She went on to win numerous awards in home sales, and earned a reputation that would foretell her future mantra, 'Serious About SOLD'. But that isn't the full story–she did this while being an active and supportive Mom to three children, where she says the rewards were even greater.
Today, she and Jim are proud to own and operate Realty Consultants, an eXp Realty powered brokerage growing with serious agents. Prior to this venture, Jim was VP of Sales & Marketing for a national home builder where he specialized in market trends and successful sales teams built on service. They're now advocates for serious buyers & sellers who need serious agents that simply get a home SOLD. They're recognized for their stress-free approach to preventing problems before they arise. They're also known for their expansive knowledge and marketing solutions that sell a home fast and at full value. Together, Jim & Kim have successfully negotiated over $400 million in real estate transactions, and they're currently growing a team of serious agents who deliver the unparalleled service their customers have come to expect.
Kim says her greatest accomplishments are not the sales awards, but knowing her clients trust her to help them make decisions about their home. Because home is where you create your memories. It's where the balance begins. And even when you're busy making a living, you always remember to make life count.