Corvelli Realty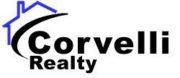 Thank you for visiting me and allowing me the opportunity to show you what I can do for you regarding all of your real estate needs, including REO and Foreclosures, Short Sales, Owner-Occupied, Rentals, Land, and Commercial properties.
Expanded Service Description
My system and web site allow you to have ACTIVE listings sent to you the MOMENT they hit the market! These listings include the information you need to review the property on the internet AND include PICTURES of the properties. My system is DIRECTLY linked to the MLS system, so you have the most up-to-date information that you can find anywhere on the internet without actually being a Realtor yourself!
Real estate is my passion and my full-time business. I actually own eleven (11) properties of my own ... and I give the best deals to my clients BEFORE I invest in another property. But, most importantly, I am available and dependable.
I promise to make this the easiest real estate experience possible for you. Why not call me and give my services a try. You will be glad that you did! Remember, it doesn't cost you any Broker commission to buy a home using my services! And, it doesn't cost you anything at all to check out my services and my web site.
I work with buyers, sellers, investors, and renters. I specialize in all of Northern Virginia, including Fairfax County, Loudoun County, Prince William County, Alexandria, Arlington, Falls Church, Reston, Ashburn and many, many other cities. I can even assist you with Maryland, West Virginia, and Washington, DC. Should you be moving to another area, I am here to save you time by referring you to other excellent agents in my network throughout the United States.
Call me at 703-815-6250, or email me at Trish@CorvelliRealty.com or visit my web site at www.CorvelliRealty.com. Cheers!
A Little Background on Trish ~
Trish's entire professional career was in corporate management of administration, including purchasing, payroll, hiring of employees, health and medical benefits, facilities management, inventory, and much more … basically anything that did not have to do with the technical end of the corporation. Trish's expertise in management, coordination, organization, and attention to detail has proven paramount in her real estate career.
Trish began her career in real estate as an investor in 2002, after giving her corporate position a 6-month notification. Today, Trish owns eleven (11) properties, is seeking her 12th, and works diligently with buyers and investors who are seeking their own small monopoly.
Trish began her real estate business on the internet. When Realtors were skeptical of the internet, Trish placed her trust in the future. She has compiled an OPT-IN network of almost 5,000!! potential purchasers that are seeking to buy a home, with more being added daily. She urges you to take advantage of this unusual perk when selling your home. In addition, Trish places your full listing on over 1,000!! websites to get your home SOLD!
Real estate is Trish's passion and her full-time business. Above all else, Trish and her Team are available and dependable and treat you the way we like to be treated … with respect, making YOU a priority ... because ... It's ALL about YOU!