Compass
Featured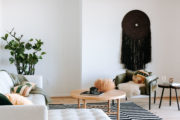 I focus on residential distressed and remodeled properties. From Venice to Pasadena. We focus on single-family residences predominantly throughout North-East Los Angeles. We rank as the highest sales in Atwater Village for two sales for $2M for a single-family home.
Expanded Service Description
I was born and raised in northern New Jersey. I later moved to the West Coast to finish my bachelor's degree in business administration and marketing at the University of San Diego. Before becoming a real estate agent, I worked in sales for the construction safety industry in Hawaii where I was a top performer year over year. Upon relocating to Los Angeles, I starting working in the interior design realm. What I love most about living in LA is the vibrancy and versatility that the city offers. Outside of work, I enjoy traveling, hitting the beach, and playing rounds of golf. I've been able to sell in most major markets in Los Angeles and am familiar with nuances that help successfully close the sale smoothly for a remarkable number. My clients are most referral and begin as clients and end as friends. I focus on client needs and try to really listen to what they want/ need.