Coldwell Banker West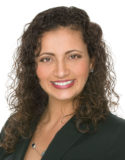 Expanded Overview and Background:
I am a wife and mother of two that is happy with life. I have been selling real estate for 8 years after coming from the auto lending industry for 8 yrs. Real Estate has always been my passion! In my early twenties I would attend open houses and get excited to walk into a home and see what the floor plan/décor looked like. I pictured getting the keys and walking inside with pride ready to make it a HOME. I believe it came from a life of growing up in various places. We moved a lot! This experience is what I want for all my clients; the same feeling of happiness and joy of buying their first or move-up home. My career IS customer service, and believe that it should be given always. My definition of customer service is "Identifying a client's needs and providing them with a service they expect and enjoy by informing them with honest facts, giving my opinion when asked, and delivering their expectations in a timely manner. I've been awarded the International Diamond Society 2 years in a row, meaning I've ranked within the top 11% of all Coldwell Banker Agents in the Country, and I have received multiple TOP Producer awards within my company of over 500 agents.