Coldwell Banker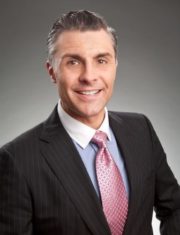 Service area Greater Los Angeles. Specializing in seller and buyer representation.
Expanded Service Description
Jeffrey Fritz is an energetic and charismatic real estate expert who knows what it takes to increase the value of buying and selling your home. In 2007, with the help of his partner, Laura Buffone, they created an organization rooted in commitment to superior customer service and representation, bound by honesty and integrity, and dedicated to socially and environmentally responsible practices.
Jeffrey was born and raised in Cleveland, Ohio and was fortunate to be surrounded by a very large and dedicated extended family. He learned early on the value of having people around you that you can trust and count on, knowing that you will always receive the best they have to offer: Jeffrey applies these very same values to every one of his clients.
Jeffrey attended his higher education at Easter Michigan University, and prior to his career in real estate, worked in marketing and advertising in some of the top companies in the industry. During this time, Jeffrey was able to expand his practical knowledge and create both traditional and non-traditional marketing, advertising & promotional campaigns for many highly respected companies. The experience and knowledge acquired during this time built the foundation for his out-of-the box thinking, and has enabled him the ability to create some of the most comprehensive and innovative marketing approaches in the real estate industry today.
His success in this rapidly changing market is due to diligence and commitment, as well as his foresight in anticipating changes six to twelve months ahead, enabling him to be a trusted advisor to his clients. As an investor and home owner himself, Jeffrey is able to guide you through the sale or purchase of your home, and has the experience and knowledge to consult & represent investors in multi-unit and commercial transactions, thus helping many of his clients build wealth through investing in real estate.
Jeffrey's motto "Be Good," accompanied by his strong values, past experience and forward-thinking, make him an asset to every client he engages.