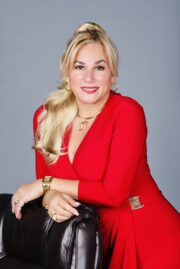 Buyers Agent, Listing Agent, Relocation, Foreclosure/Short Sale, Management/Consulting, Fix and Flip, Investment Property.
Expanded Service Description
I was born on the beautiful Caribbean island of Cuba, who is currently fighting for its freedom. I am the only daughter of wonderful parents who taught me to fight for life and to see far beyond what I could see and imagine. I spent my childhood in the countryside, together with my family, who own one of the few private farms in Cuba. With a lot of effort, I managed to study and graduate in Law and there I began to see the reality of Cuba which is a country without freedom.
I exercised my career but the lack of opportunities and the desire to go for more in life forced me to emigrate and so I arrived in the United States on December 28, 2006, in the midst of the crisis, eight months pregnant and with a four year old child, a suitcase with very few things but a heart full of dreams and illusions. Sixteen years have passed but I can still remember that day and feel again the divine feeling of freedom when the plane landed in Miami. It was there that the best and most divine adventure of my life began. I started as a banquet waitress at the Hilton Hotel and a waitress at the Old Cuban Cafe restaurant, the owners are like family to me and played the biggest role in me moving to Orlando with my family to start a new life. It wasn´t until in 2009 that God opened the doors of Ronnie Henderson´s law office, there I was welcomed with open arms by Ronnie and his team and I carved a wonderful learning path about this great career and I discovered my great passion for the real estate world.
In 2016, after much insistence on the behalf of Ronnie and my family, I decided to obtain the license of Sales Agent for the state of Florida and that is where the best adventure began. At first, it was difficult because although I started with a very good clientele, financially, my profession couldn't pay for everything. There were times where I thought about giving up but my passion for this world made me try harder and harder and that's where everything flourished, thank God! And this 2021 has been blessed because we have been able to help many families to achieve their goals in Real Estate; so far this year, we have closed each month with more than one transaction and at the end of June 30, I accumulated two million 155 thousand in sales volume, a record that it has led us to recognition in the real estate world and followed by a lot of personal satisfaction. The next objective is to obtain the Broker title by 2021 and by 2022 to give birth to Elizundia Luxury Realty to serve our community in Central Florida and provide all our clients with the exclusive attention that they all deserve. I am a proud mother of a beautiful girl, Andria, and an amazing young son Cesar Adrian, Happy wife of 26 years of a wonderful husband and father and blessed with unique parents and a great and united family that is in Cuba, Spain and here, I adore them all and they provide me with a lot of the strength that I need to keep going.
Awards and Recognitions:
Broker*Agent Advisor Seven Star Award Winner 2021, 5 star 2022.
Broker*Agent Advisor Top 100 Member in Market in 2021 and 2022.
Broker*Agent Advisor Certificate of Excellence 2021 and 2022.
Homesnap Top Agent Award Winner First Half of 2021 and 2022.
Homesnap Most Prominent Agent Award 2021.